SOPREMA — Innovative and Sustainable Solutions for Builders
For more than 100 years, SOPREMA has been using its expertise to develop a variety of high-end products that measure up to the requirements of the construction field.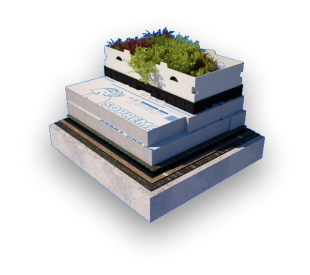 Which system is right for you?
Don't waste any more time! The SOPREMA System Selector can help you select the perfect system in just a few easy steps. SOPREMA has a range of options to meet your needs and help you build with confidence.
Revision Service for Plans and Specifications
SOPREMA's Services to Professionals are there to offer you support and expertise in each step of your architectural projects, from design to construction.
Tapered Design for Commercial Roofing
Choosing the right tapered on a roof is essential to ensure adequate drainage. At SOPREMA, a team of estimators and drafters is dedicated entirely to support you through the process, from conception to installation.
Expansion Joint Design Service
SOPREMA offers you a custom design service for expansion joints. Our team of experts takes the measurements from the plans or evaluates them on site. The products are thus prefabricated or custom-made to adapt to your needs.
Drone Services
We offer comprehensive inspections and thermographic analyses carried out using a drone at several key moments throughout the service life of the roof in order to ensure its durability.
All About Building Science
Our webinars and conferences are filled with the technical information you need about various scientific theories and concepts on the building envelope and the construction industry.
Take this opportunity to stock up on continuing education units!
Considering Shifting to a Flameless Approach?
Find out about our wide range of cold-applied products!
Flameless solutions are ideal for all types of structures, especially for works carried out on buildings housing permanent occupants or 24/7 production facilities. In addition to being highly efficient, flameless solutions are a safer option, not only for workers and occupants, but for the environment as well.
Increasing the Durability of a Roofing System Through Resurfacing
Resurfacing a roof has multiple economical and environmental benefits. The real estate developer Cadillac Fairview, the consulting firm WSP Canada, Inc. and SOPREMA chose this solution in order to ensure the durability of part of the roof of the CF Champlain Mall located in Dieppe, New Brunswick.
Check Out the Latest Articles From Our Learning Centre
Find out how the SOPREMA Protected Wall Assembly helped meet the construction challenges of the ...